re-packaged bananas are an example of this phenomenon. As you can see in this picture, someone has taken the time to first take the (naturally protective) skin off a banana, and then repackage it in its own separate little plastic container. This is excessive, ineffective and inconvenient, seeing as the natural-born skin of a banana is easily unwrapped, providing a little secret mechanism even to make the unwrapping process quick and easy because, assuming you've peeled a bana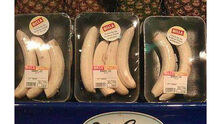 na before, you know that if the stem is left intact, by gripping and pulling this extra piece at the end, all of the sides of the skin of the banana come unraveled in one fell swoop.
Ad blocker interference detected!
Wikia is a free-to-use site that makes money from advertising. We have a modified experience for viewers using ad blockers

Wikia is not accessible if you've made further modifications. Remove the custom ad blocker rule(s) and the page will load as expected.